Baeolidia rieae Carmona, Pola, Gosliner & Cervera, 2014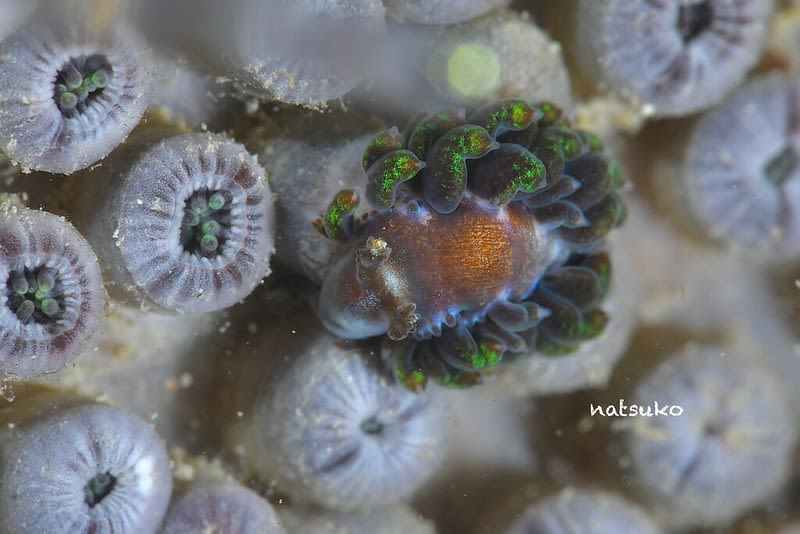 MORPHOLOGY
Body short, broad, tapering close towards posterior end of foot. Foot corners rounded. Body colour translucent. Dark ochre and pearly white pigmentation over notum. Rhinophores same colour as ground body colour with inconspicuous papillae. Apex pearly white. Cerata large, flattened, almost leaf-like. Cerata light ochre with pearly white, dark ochre and iridescent green pigmentation. Cnidosacs white. Cerata in one arch followed by three rows, leaving a distinct gap between pre and post-pericardial groups. Each arch with 2–5 cerata, decreasing in size towards the foot. Anus cleioproctic, behind first right row. Gonopore behind the anteriormost row on right.
DISTRIBUTION
So far, only known from Japan (present study).
ETYMOLOGY
This species is named after Rie Nakano who kindly provided us material from Japan, including this new species.
DISCUSSION
---
References
Baeolidia rieae sp. nov., Carmona L., Pola M., Gosliner T.M. & Cervera J.L. 2014. Review of Baeolidia, the largest genus of Aeolidiidae (Mollusca: Nudibranchia), with the description of five new species. Zootaxa, 3802 (4): 477–514.
ウテンミノウミウシ(新称), 中野理枝, 朝倉知子, 池田紫, 石川雅教, 今本淳, 岩瀬南美, 西田和記, 堀江諒, 山田久子, 渡井久美. 2017. 奄美大島北部海域における後鰓類相の調査報告. Kuroshio Biosphere 11. 41-60. +5pls.
ウテンミノウミウシ, 中野 理枝. (2018). 日本のウミウシ.
Posted by Baeolidia rieae
Same Genus Nudibranchs
Similar Colors Nudibranchs