Myja karin Martynov, Mehrotra, Chavanich, Nakano, Kashio, Lundin, Picton & Korshunova, 2019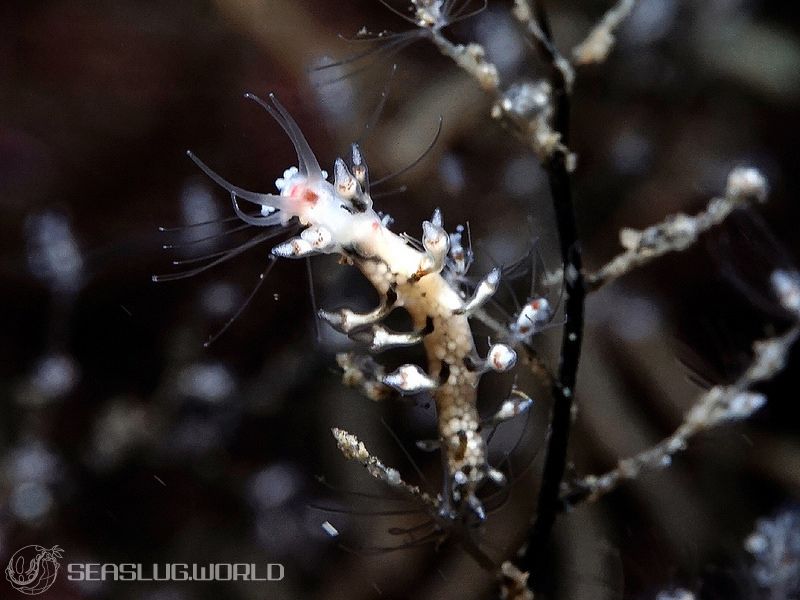 MORPHOLOGY
Up to ten ceratal rows, ground colour translucent greyish, ceratal cores light to dark greyish, ceratal tops dull reddish, apices with white spot, anterior cerata with brownish basal spot, no sparse white spots in the first half of the dorsal part, white gonad spherules moderately dense, cerata moderately widened at top without smaller separate cupola-shaped tip, central tooth narrowly triangular with very sharp non-pitted top and numerous lateral denticles, up to 20–30 small irregular in size denticles, very distinct ridges and furrows on the teeth surface, no accessory penial gland, penis unarmed.
DISTRIBUTION
Central parts of the Pacific coast of the main Japanese island of Honshu; potentially can occur at least at the southern parts of Honshu and Kyushu.
ETYMOLOGY
In honour of Karin Fletcher (Port Orchard, Washington), who has made considerable recent efforts in uncovering hidden diversity and understanding of the nudibranch fauna of the NE Pacific.
---
References
Martynov, A.; Mehrotra, R.; Chavanich, S.; Nakano, R.; Kashio, S.; Lundin, K.; Picton, B.; Korshunova, T. (2019). The extraordinary genus Myja is not a tergipedid, but related to the Facelinidae s. str. with the addition of two new species from Japan (Mollusca, Nudibranchia). ZooKeys. 818: 89-116., available online at https://doi.org/10.3897/zookeys.818.30477
カリンミノウミウシ(新称), 日本のウミウシ 第二版
Posted by Myja karin
Same Genus Nudibranchs
Similar Colors Nudibranchs