Trapania tigger Smirnoff, Donohoo & Gosliner, 2022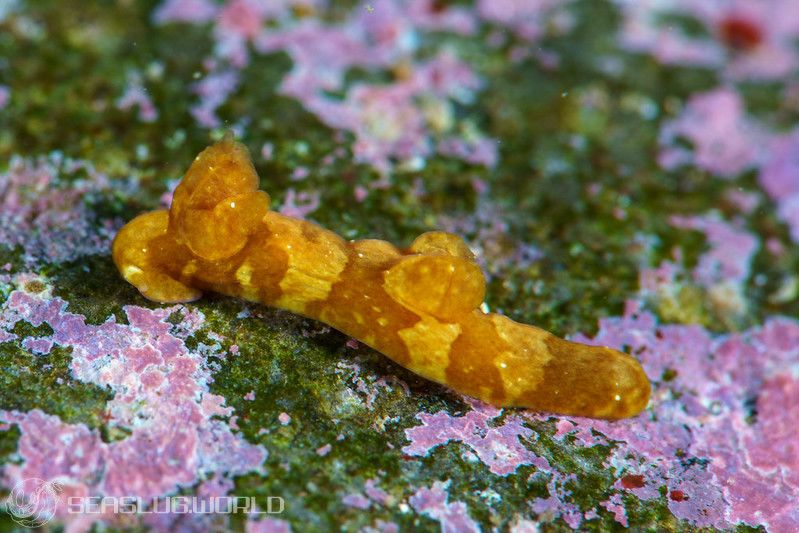 MORPHOLOGY
Living animal (Fig. 2H) is 12 mm. Entire body is mottled pale tan with darker brown patches and a few small opaque white spots over the entire surface of the body. Posterior portion of the body has alternating bands of light and dark pigment, while the middle and anterior of the body is characterized by discrete light and dark patches of pigment. Rhinophores are thick, club-shaped with about eight lamellae and a pointed tip. The small gill has a central, branching stalk flanked by two smaller branches. The extra-branchial and extra-rhinophoral appendages are thick, stocky and have a slight bulge near the base. The anterior margins of the foot extend laterally as elongate appendages. Oral tentacles are short. Posterior foot is bluntly rounded and less pointed than typical of Trapania.
DISTRIBUTION
Known only from Mabini, Luzon, the Philippines.
ETYMOLOGY
Trapania tigger is named for its resemblance to Tigger, a fictional character illustrated by E. H. Shepard from the Winnie-the-Pooh series of stories (Milne, 1928). It is a noun in apposition.
---
References
Posted by Trapania tigger
Same Genus Nudibranchs
Similar Colors Nudibranchs