Murphydoris puncticulata Paz-Sedano, Smirnoff, Candás, Gosliner & Pola, 2022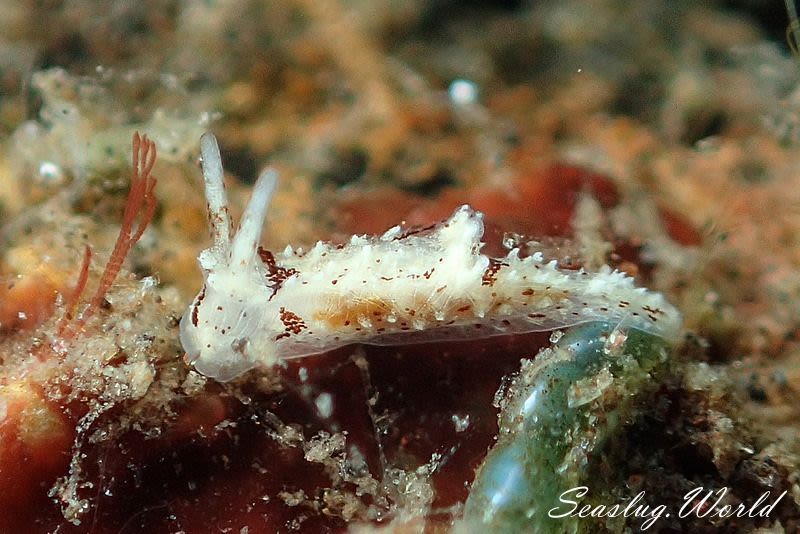 MORPHOLOGY
Body white with small dark brown spots scattered along body. One triangular band of concentrated brown spots at anterior portion of dorsum, behind rhinophores. Transverse dark brown patch at head, between rhinophores. Third horizontal band of concentrated spots behind gill. Rhinophores, gill branches and foot whitish translucent.
DISTRIBUTION
the western and central Pacific Ocean
ETYMOLOGY
From Latin diminutive of punctum, point or dot. Murphydoris puncticulata is named after the brown notches formed by dots.
---
References
Goniodoridella sp. 1, Terrence Gosliner, Ángel Valdés and David Behrens. (2015). Nudibranch and Sea Slug Identification Indo-Pacific. New World Pubns Inc.
Goniodoridella sp. 11, 中野 理枝. (2018). 日本のウミウシ.
Murphydoris puncticulata sp. nov., Paz-Sedano, S., Smirnoff, D., Candás, M., Gosliner, T.M. & Pola, M. (2022). Rediscovering the overlooked genus Murphydoris (Nudibranchia: Goniodorididae): the first phylogeny and addition of four new species. Zoological Journal of the Linnean Society. DOI: 10.1093/zoolinnean/zlab122., available online at https://doi.org/10.1093/zoolinnean/zlab122
Posted by Murphydoris puncticulata
Same Genus Nudibranchs
Similar Colors Nudibranchs