Platydoris cinereobranchiata Dorgan, Valdes, & Gosliner, 2002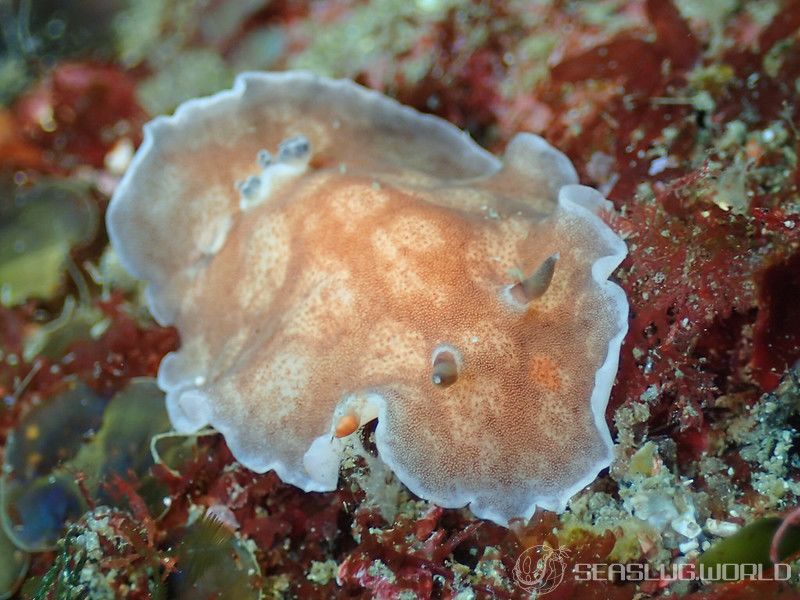 MORPHOLOGY
The body shape is flat and wide (Fig. 20G). The rhinophoral and branchial sheaths are elevated. The branchial sheath has six branchial lobes, with the anterior and posterior ones being larger than the others. The gill is composed of six tripinnate branchial leaves. The perfoliate rhinophores always have 31 lamellae. The background colour is tan, covered with very small, black spots and large, orange-red blotches. The gill and rhinophores are dark purple-brown, and the rhinophores have white tips. The ventral side is scattered with very small dark spots.
DISTRIBUTION
This species is known from the Philippines (present paper). It was also recorded by White (1950) from the Seychelles as P. tabulata.
ETYMOLOGY
From the Latin cinereus (grey, ash coloured) and brachiata (with gills), in reference to the grey colour of the gill of this species.
---
References
Posted by Platydoris cinereobranchiata
Same Genus Nudibranchs
Similar Colors Nudibranchs