Trapania tamaraw Smirnoff, Donohoo & Gosliner, 2022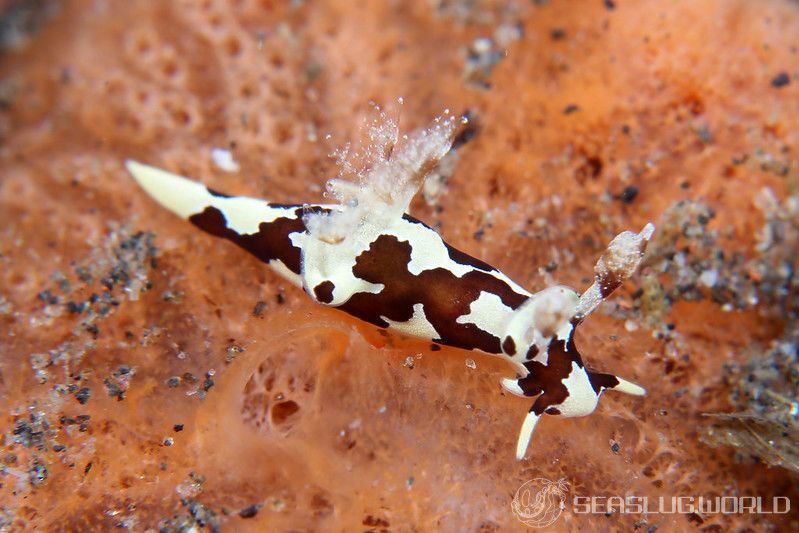 MORPHOLOGY
Live animal coloured with alternating blotches of dark brown/ black and yellowish tan across the entire body. Rhinophores are cylindrical halfway up and conical to a blunt tip the rest of the way with five to six lamellae. Top two-thirds of the rhinophores have a purple-brown appearance, while the bottom third has light coloration, similar to other parts of the body. Gill plume consists of three branches that have a translucent yellow-tan appearance with the same coloration as the rhinophores along the gill plume tips. Extra-branchial and extra-rhinophoral appendages are elongated and curved, typical of Trapania. Each is coloured yellowish tan with a single spot of purple/brown coloration halfway along their length. Digitiform oral tentacles are dark brown/black at their base and yellowish tan at their distal halves. The anterior margins of the foot extend laterally as elongate appendages are dark brown/black at their base and translucent yellowish at their distal halves.

DISTRIBUTION
Known only from Puerto Galera, the Philippines.

ETYMOLOGY
A tamaraw is the native name for the dwarfed hoofed buffalo endemic to Mindoro, Bubalus mindorensis (Heude, 1888). The horns of this buffalo resemble the well-developed and large jaws of this species compared to other members of the genus Trapania.
---
References
Posted by Trapania tamaraw
Same Genus Nudibranchs
Similar Colors Nudibranchs