Phestilla viei Mehrotra, Caballer & Chavanich, 2020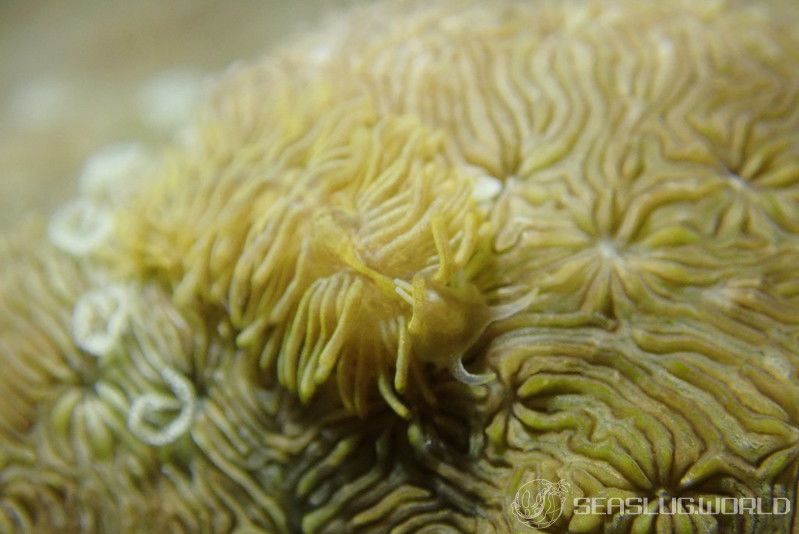 MORPHOLOGY
Body translucent white to pale yellow dorsally, pale brown laterally. Rhinophores translucent white, smooth, relatively short. Oral tentacles translucent white with brown markings, smooth, 1.5 times the length of rhinophores. Foot corners broad, tapering gently. Pericardium with a distinctive bulbous "hump," sometimes repeated at regular intervals along the dorsum. Firsts rows of cerata joining together in a wide pedunculate base. First ceras of each row held more upright. Cerata translucent white with brown pigmentation caused by aggregations of unicellular dinoflagellate (Durusdinium sp.), held laterally giving a very flattened appearance. Gonopore on the right side below the first ceratal pedunculate row. Anal papilla between first and second postcardiac ceratal rows. Jaws with smooth cutting edges. Radular formula: 19 × 0.1.0. Teeth broad, lacking central cusp, with 8–12 denticles on each side of the median area, the central and lateral ones smaller. Penis 800 μm long, lacking stylet. Feeding on Pavona explanulata (for descriptions and illustrations see, e.g., Veron 2000; Waheed et al. 2015).
DISTRIBUTION
Indonesia (Fritts-Penniman 2016), Madagascar, Papua New Guinea, and the Philippines (Gosliner et al. 2008: as Phestilla sp. 2). Thailand (this paper). Gosliner et al. 2015 (as Phestilla sp. 2) and Gosliner et al. 2018 (as Tenellia sp. 83) widely record the species from the Indian and Western Pacific Oceans.
ETYMOLOGY
Phestilla viei Mehrotra, Caballer & Chavanich sp. nov. is named in honor of Mr. Vie Panyarachun for his years of facilitating citizen science and contributions in curating records of sea slug diversity in Thai waters, and his continued efforts as a marine naturalist.
---
References
Posted by Phestilla viei
Same Genus Nudibranchs
Similar Colors Nudibranchs