Trapania euryeia Gosliner & Fahey, 2008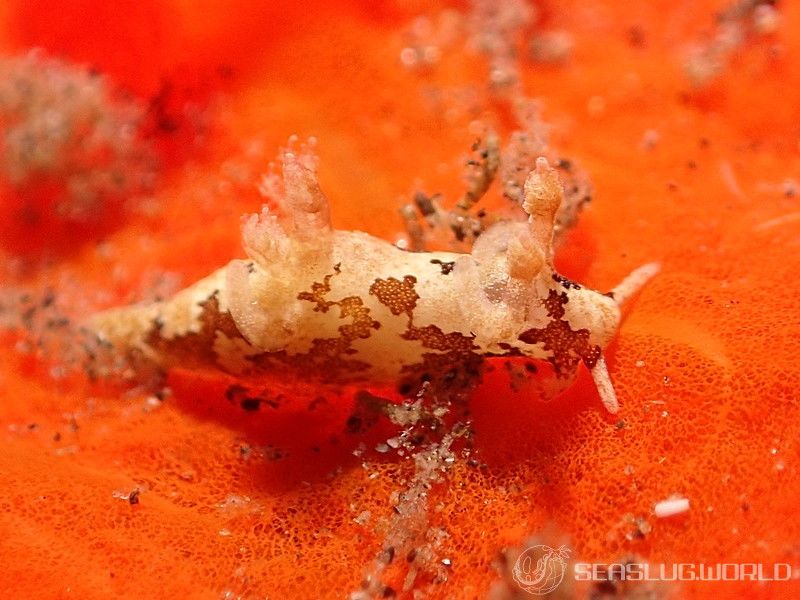 MORPHOLOGY
The body shape is elongate and convex, without a distinct notal margin. The body is widest in the branchial region. The head is rounded anteriorly and oral tentacles are relatively short and cylindrical with a rounded apex. The posterior end of the foot is sharply tapered with a somewhat rounded posterior tip. The, non-retractile, perfoliate rhinophores are relatively short with 7–8 lamellae and have an elongate tip. The extrarhinophoral appendages are relatively short, thin and have a curved apex. The gill consists of three bipinnate branches. The extra-branchial appendages are curved, and slightly longer than the extra-rhinophoral appendages. The body is pale yellow with brown patches that have white or pale yellow punctuated spots showing through the brown. The colour of the anterior head tentacles could not be determined. The bases of the oral tentacles are brown with white dots and the apices are white. The extra-rhinophoral and extra-branchial appendages are creamy white with a few brown spots. The rhinophores and gill leaves are the same colour as the body, that is, pale yellow with random brown blotches.
DISTRIBUTION
This species has been reported from Reunion, Papua New Guinea, Indonesia: Sulawesi and Bali, Okinawa, Marshall Islands, Midway Atoll and Hawaii (present study).
ETYMOLOGY
The specific name euryeia is from the Greek word meaning 'widespread' to describe the wide geographic range of this species.
---
References
Posted by Trapania euryeia
Same Genus Nudibranchs
Similar Colors Nudibranchs